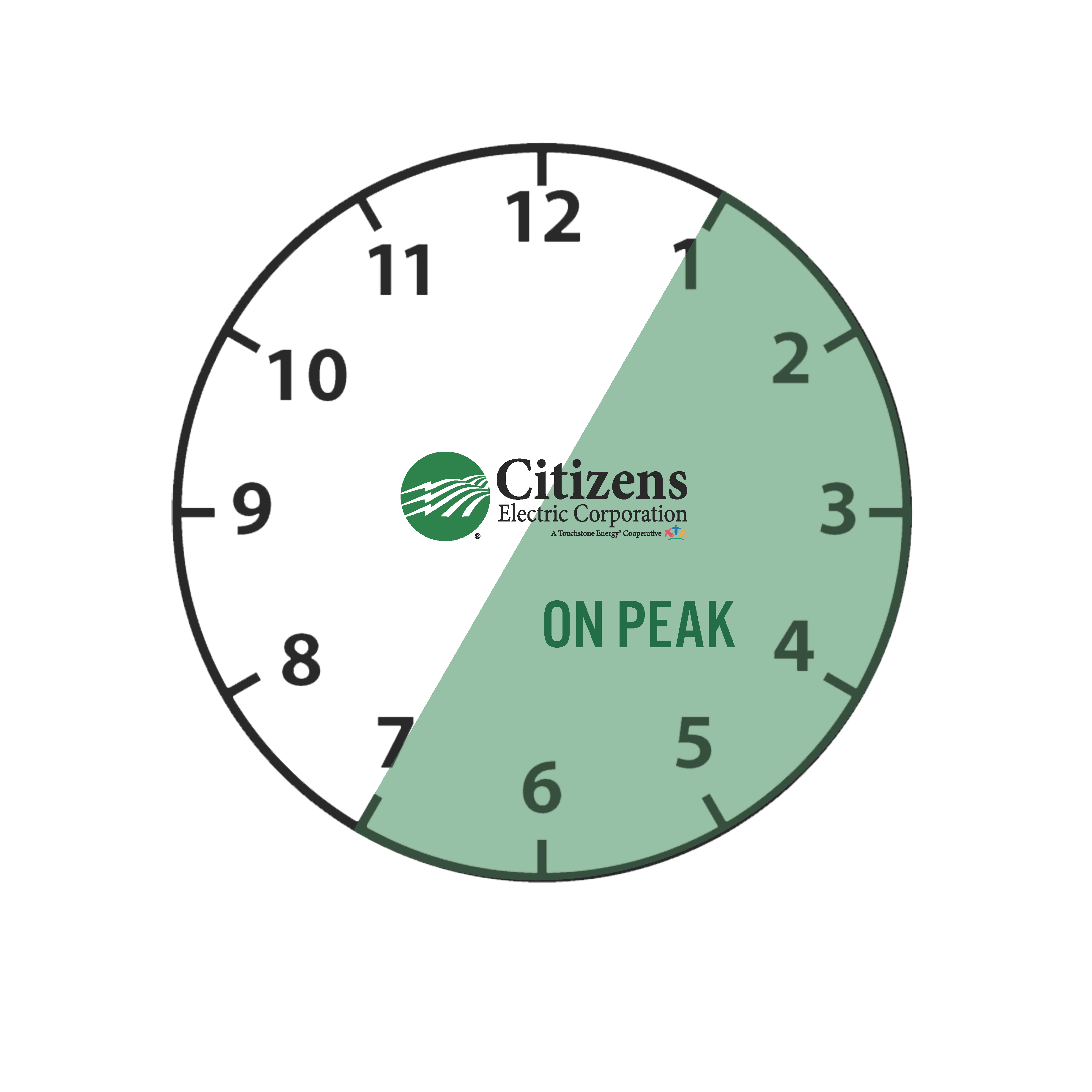 Peak demand pricing has been popular across the country for many years. It is currently gaining popularity in Missouri and throughout the Midwest. Peak demand allows members to have more control over their bills, ensuring fairness for all members.
Current CEC rates have demand charges built-in with no difference between on-peak and off-peak rates. CEC's demand cost is spread equally among all kilowatt-hours regardless of how usage aligns with peak demand. But peak demand and time-of-use certainly impact what CEC pays our wholesale supplier, Wabash Valley Power Alliance (WVPA).
Your bill has a line item describing your peak demand to help you understand how your habits impact peak demand.  Peak demand is your highest demand on the grid for a one-hour period, Monday through Friday (excluding holidays) between 1 p.m. and 7 p.m. Central Time. This six-hour period is considered on-peak. All other hours, including all weekend hours, are off-peak. 
Additionally, your bill shows how much electricity you use during on-peak and off-peak periods. Monitoring your demand and usage during peak times is simple. Hourly usage can be monitored on the CEC Mobile app or on the Member Portal. By learning what appliances cause the highest demand, measuring, and managing becomes much easier.
Peak demand prices allow members the opportunity to help control rates by lowering peak demand and on-peak usage. 
Staggering the use of major appliances is the easiest way to manage your energy and demand charges. When you consistently stagger the use of major appliances so they don't run at the same time, you can keep your demand low. Make it easier by utilizing technology that helps you remember to offset energy use like timers, delay start settings, mobile apps and programmable thermostats.
Helpful tips to manage your demand:
Run the dishwasher after you're done cooking dinner. Even better, use the delay start
feature so your dishwasher runs later at night while everyone is in bed.
Start your clothes washer before you go to bed in the evening, and then run the
dryer after everyone has finished cooking breakfast the following morning.
Grill outside or use small cooking appliances if the air conditioning is running.
Bonus: you won't overheat your kitchen on a hot day.
Set your electric vehicle charger to run after you've turned off other appliances for the day.
Small changes in how you use your household appliances can help you see the corresponding effect to your energy and demand, and Citizens Electric demand rate can put you in the driver's seat of your electric bill.