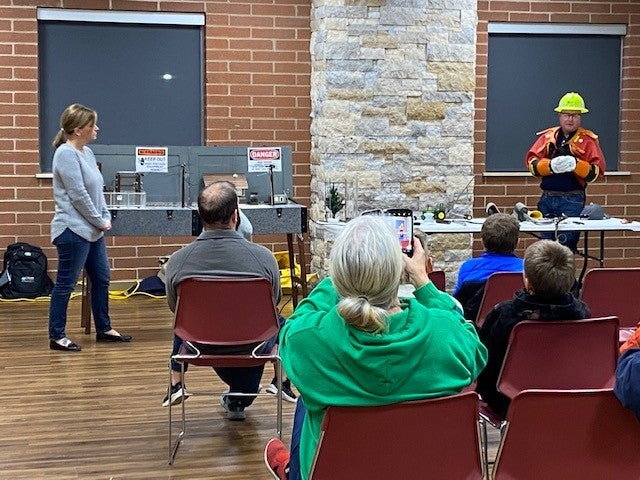 Citizens Electric offers safety presentations designed for younger audiences.  The Table Top Presentation uses a smaller scale version of our current infrastructure to demonstrate safety around power lines.  Children are able to see first hand how an electrical current moves through various items they may encounter in their daily lives, presented in a fun and easy to learn format.
To schedule a live Table Top Presentation for your classroom, please contact Kelli Behrle, Communications Specialist Email: kbehrle@cecmo.com
Instincts can help us to avoid danger but in some situations, our natural inclinations can lead to tragic results. If your car hits a utility pole or otherwise brings a power line down, getting out of a vehicle, with few exceptions, is the wrong thing to do until the line has been de-energized. Know the right steps to take to save your life:
You are almost always better off to stay in the car, especially if the line is in contact with the vehicle.
Call or signal for help. It is safe to use a cell phone.
Warn others who may be nearby to stay away, and wait until the electric utility arrives to make sure power to the line is cut off.
If the power line is still energized and you step outside, your body becomes the path to ground for that electricity, and electrocution is the tragic result. Wait until the electric utility arrives and shuts off the power.
The only exception would be if fire or other danger, like the smell of gasoline, is present. In that case, the proper action is to jump—not step—with both feet hitting the ground at the same time. Jump clear. Do not allow any part of your body to touch the vehicle and ground at the same time. Hop to safety, keeping both feet together as you leave the area. Like ripples in a pond or lake, the voltage diminishes the farther out it is from the source. Stepping from one voltage level to another allows the body to become a path for that electricity.
Even if a power line has landed on the ground, there is still the potential for the area near your car to be energized. Stay inside the vehicle unless there is fire or imminent risk of fire.
The same rules apply with situations involving farm equipment and construction equipment that comes in contact with overhead lines. Those working with large equipment should stay inside the vehicle if equipment extensions come in contact with power lines.
Whether you are playing outdoors with your children or working on landscaping projects, keep a safe distance from power lines and other equipment Citizens uses to get electricity to your home.
Always remember to:
Stay away from power lines, meters, transformers, and electrical boxes.
Don't climb trees near power lines.
Never fly kits, remote control airplanes, or balloons near power lines.
If you get something stuck in a power line, call us (877-876-3511) to get it.
Keep a safe distance from overhead power lines when working with ladders or installing objects such as antennas.
Never touch or go near a downed power line. Even if electricity is not on in the area, the power line may have current flowing through it.
Don't touch anything that may be touching a downed wire, such as a car.
Keep children and pets away.
Accidents, severe storms, and other disasters can cause power lines to come down. With one wrong move before, during, or after a disaster, a life can be lost. Know the right steps to take to keep you and your family safe:
If you see downed power lines, or other damaged electrical equipment, notify the local electric utility as soon as possible because the lines could still be live.
Just because power lines are damaged does not mean they are dead. Stay away, and instruct others to do the same.
Power lines do not have to be arcing or sparking to be live and dangerous.
Downed power lines, stray wires, and debris in contact with them all have the potential to deliver a fatal shock. Stay clear of fallen power lines and damaged areas that could hide a hazard. Be alert during clean-up efforts.
Treat all power lines as if they are energized until there is certainty that power has been disconnected.
If a power line has landed on the ground, there is the potential for the area nearby to be energized. Stay far away, and warn others to do the same.
Do not attempt to drive over a downed power line.
If you are driving and come along a downed power line, stay away and warn others to stay away. Contact emergency personal or your utility company to address the downed power line.
If power lines should fall on your vehicle while you are driving, do not attempt to drive away or get out. Call for help, and stay inside until utility crews say it is safe to get out. The only exception would be if fire or other danger, like the smell of gasoline, is present. In that case, the proper action is to jump—not step—with both feet hitting the ground at the same time. Jump clear. Do not allow any part of your body to touch the vehicle and ground at the same time. Hop to safety, keeping both feet together as you leave the area.
Any power line that is dead could become energized at any moment due to power restoration or backup generators.
Be alert to electrical equipment that could be energized and in contact with water, along with other potential hazards that create a serious risk of electrocution. Safety measures to keep in mind include:
Never step into a flooded basement or other room if water may be in contact with electrical outlets, appliances, or cords.
Never attempt to turn off power at the breaker box if you must stand in water to do so. If you cannot reach your breaker box safely, call your electric utility to shut off power at the meter.
Never use electric appliances or touch electric wires, switches, or fuses when you are wet or standing in water.
Keep electric tools and equipment at least 10 feet away from wet surfaces. Do not use electric yard tools if it is raining or the ground is wet.
Electric motors in can be damaged when wet and should not be used after a storm until they have been inspected and approved by a professional. It may be necessary to have some of them repaired or replaced.
A good safety measure is to have ground fault circuit interrupters (GFCIs) professionally installed on outlets. GFCIs are recommended for outdoor outlets and outlets near wet areas of the home such as kitchens, baths, and laundry rooms.
Teach children to never play around pad-mounted transformers, solar panels, wind turbines, or electrical substations. If a ball or other toy goes over a substation fence, call your utility for help.
Never climb trees near power lines. A tree may be inviting climbers, but trees near power lines could be conductors of electricity if branches are touching the wires. Even if branches are not touching power lines, they could if weight from a child is added.
Open areas are great places to fly kites and model airplanes, but do not fly them near overhead power lines or electrical substations. A kite string can conduct electricity from an overhead power line to the person on the ground.
Storm fronts can move rapidly, and lightning is a potential danger 10 miles in advance of a storm. Make sure that your children know "If thunder roars, go indoors" and not to seek shelter under a tree or open picnic shelter.
Ensure your children are protected from the electrical service connection to your home. Keep ladders or long poles stowed and away from youngsters who might be tempted to use them to reach the wires connected to your house. If you have added a room addition or deck, make sure the service connection remains well out of reach. Contact your local utility if you are unsure the distance is safe.
If electric wires in your neighborhood have sagged for some reason or a tree limb has pushed the line out of place, keep your neighborhood safe by alerting your electric utility.
During a power outage, you may find yourself in the dark and unable to use your appliances for a period of time. A generator can provide temporary electricity that, depending on type, can power a few appliances or an entire building. While convenient during an outage, generators used improperly can also create safety hazards.
Before investing in a generator, think first about your electrical needs and usage. Know the difference between standby and portable generators:
Standby generators are wired directly into the home and can be sized to match the electrical demands of the home or building. A permanently installed standby generator must have an approved transfer safety switch to avoid feeding electricity back into the electrical system outdoors, creating what's known as "backfeed." Backfeed is dangerous for line workers as well as anyone who may be near downed power lines.
Portable generators do not permanently attach to the home, and can power only the appliances that are plugged into the generator, so consider essential electrical needs when choosing. To avoid backfeed into the utility electrical system, the portable generator should never be plugged directly into the home.
The risk of generator accidents is highest between November and February due to winter storms.  Don't wait for a power outage to prepare for safety. Before using a portable generator, read all manufacturer instructions.
Place the generator in an open, well-ventilated area away from the home or garage. Using your generator in a space that does not have adequate ventilation increases the risk of carbon monoxide poisoning (CO) from fumes. As an extra precaution, install CO detectors around the home and test them regularly. CO is odorless and colorless and can be deadly. Symptoms of CO poisoning include dizziness, nausea, and headaches. If you suspect a problem, seek fresh air immediately.
Before turning the generator on, make sure nothing is plugged in. Keep children and pets a safe distance from generators. After starting it, only plug appliances or those connected to heavy-duty extension cords directly into the generator. Never plug the generator into a wall outlet to avoid the risk of backfeed.
Carbon monoxide fumes are both colorless and odorless and may reach fatal levels within minutes if not detected.
When turning off your generator, take the time to do so safely. Unplug all appliances before turning off the power of the generator. In order to keep your generator in working order, you'll need to perform regular maintenance.