The below-listed payment stations will no longer accept payments after November 29, 2022.
Country Mart 180 Plaza Drive Ste. Genevieve, MO 63670
Bloomsdale Bank 55 Mill Hill Road Bloomsdale, MO 63627
Bloomsdale Bank 695 Center Drive Ste. Genevieve, MO 63670
Belgrade State Bank 515 W Karsch Blvd. Farmington, MO 63640
Rozier's Food Centre 217 North Main Street Perryville, MO 63775
Beginning December 7, 2022, Citizens Electric Corporation authorized payment locations will now include all CVS Pharmacy, Dollar General, Walgreens, Walmart, and participating 7-Eleven locations.
This change allows members access to nine convenient locations across the service territory, plus 36 additional retail locations within minutes of the area. New authorized remote payment locations require cash payments and will add an additional $1.50 convenience fee.  Additionally, members will be required to present their unique barcode which can be found within the SmartHub app or printed on each month's bill.  All accounts will have their own barcode that will be required for cash payments.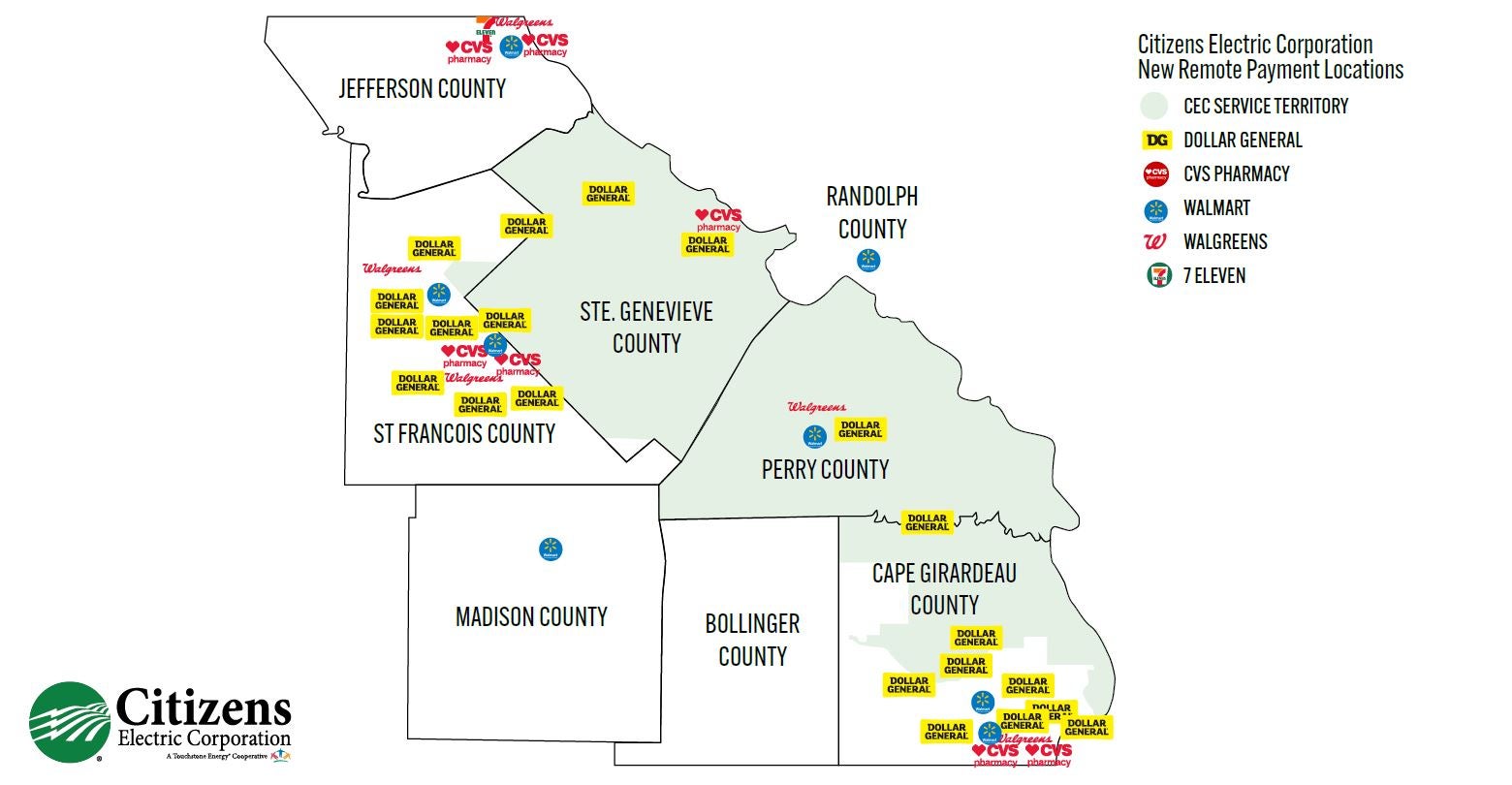 Mail your check or money order to: Citizens Electric, 1500 Rand Ave, Perryville MO, 63775
We would love to see you! Visit us in Perryville, at our headquarters, located at 1500 Rand Avenue. 
Our lobby & drive-through hours are 8 a.m.-4:30 p.m. Monday - Friday.
If you can't make it during business hours, you may utilize the after-hours dropbox. 
Give us a call anytime!  1-877-876-3511 If we aren't available, we have an after-hours phone service to assist you.  
Select option 2 to make a payment
Select option 5 to speak with a Member Services Representative (M-F 8 a.m. -5 p.m.)
Select option 1 to report an outage
You will begin noticing a SmartHub logo on materials sent to you by Citizens Electric Corporation in the coming months!
SmartHub is a new innovative tool for managing your account.  Through SmartHub, you will be able to securely store your payment information to pay your bill with one quick click, view your current and past usage history, and contact customer service.  All of this will be available from your smartphone or tablet. Click here for more information. 
CEC headquarters office located at 1500 Rand Ave., Perryville
Drive-up box across from Ste. Genevieve Post Office - SCHEDULED FOR REMOVAL AFTER DECEMBER 15