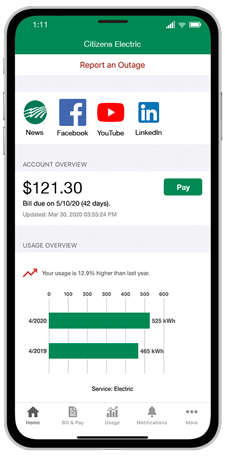 Make Payments, and Check Your Usage with the SmartHub App
With the SmartHub app, you can manage your account any place, any time, on your mobile device. Payment options, usage data, billing history, outage reporting and more are all at your fingertips. 
All you need is your account number, an email address, and one of the below links to sign up!
 Apple App Store 
 Google Play App
Don't have a smartphone? No worries! The same benefits can be utilized through our website portal, right from your computer. Just click the web portal link below.
 Web Portal
What is SmartHub?
SmartHub has features that make managing your account as easy as possible. Whether through the web, your smartphone or tablet (Android or iOS), you'll be able to pay your bill, view your usage, contact member services, and get the latest news.
As soon as you log in, you'll have access to view your billing history and make a payment with just a few clicks. You'll be able to see your current bill, along with bills from the previous month or even the previous seasons, if you want to compare costs. Not only will you see your billing history, but you'll be able to view your actual use. You can see how your use is trending over time, which will allow you to take steps to lower your bill.
Making payments through SmartHub is fast and easy. The first time you make a payment either through the web or through your mobile device, you'll be able to securely store your payment information for future transactions. The next time you need to pay your bill, it will only take a couple of clicks.
You'll also be able to see important notices with SmartHub. You'll be able to select how you want to be notified about your bill, including email and text messaging. You'll even get to set usage thresholds so that you'll know when you're using more than you'd like which will help you keep your electricity bill as low as possible.
Contact us for member service requests or with any questions you may have. 
How To Register on the Web
How To Download The Mobile App
Other Frequently Asked Questions
No. You can take advantage of all the features of SmartHub or you can continue to pay your bill as you currently do.
Visit our payment options page to view alternative ways to make your payment.
Yes.
On the website, the home page shows all of your accounts along with the amounts due for those accounts and links to other detailed information.
On the app, select the Pay My Bill icon. The total due of all accounts will be displayed. You can select different information by account, such as partial payment and payment method.
You can also make a payment to a single account or partial payments to all accounts by clicking on the Billing & Payment button. Additionally, you can select the Make Payment button to view payment options for your accounts. On the app, select the Pay My Bill icon. If you're paying the total amount due, tap the Pay button. If you're making a partial payment, tap the Pay Partial Amount, tap on the account and adjust the Pay Amount.
As the cooperative continues to grow, so does the need for better information available to the membership. These enhancements are ways we can provide a higher level of member satisfaction for the majority of our members.
All of these changes are within the forecasted operating budget of the cooperative. There will not be a rate increase with regard to these changes.
You can view your energy use on the website and app.
On the website:
Click My Usage
Select My Usage
then select Usage Explorer
On the app:
Select the Energy Use icon to view your energy use.
The information you see in the app and on the website is shown in real-time.
However, if you keep your app or web version open for an extended time, you should refresh the page by selecting a new option in order to ensure the information is current.
Major projects often provide scammers with opportunities to steal your personal information.
Please know that throughout this communication process, we will never call or email you to ask for credit card numbers, bank account routing numbers or any other type of personal information.
If you do receive such communication from someone claiming to be an employee of Citizens Electric, please report it to us at citizens@cecmo.com